Round Robin Religion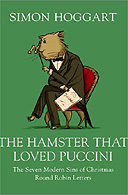 It's confession time again. Yes... I publicly admit it. Every year at Christmas my wife and I add to the unnecessary slaughter of trees by sending round a circular letter to all the people we haven't managed to catch up with the previous year… We're not the only ones who do it. I'm sure you send or receive them yourselves. Well last Christmas, someone (perhaps as a form of revenge) bought us Simon Hoggart's book entitled "
The Hamster that Loved Puccini
" (Don't ask...), a second volume of extracts from Christmas Round Robin Letters… Extracts that do not show such letters in a very good light… And which reveal how much many of their recipients dread them landing on their doorsteps in the run-up to Christmas.
It has made me seriously rethink sending ours again this year… especially when I read the chapter devoted to specifically Christian round-robin letters. Full of pious platitudes and glib answers to difficult questions, the examples quoted from do not reflect the proud tradition of Christian Circular letters begun by people like Paul and his New Testament epistles.
But Simon Hoggart's correspondents reserved their most bilious attacks for those who use these letters to tell all who will read them of the wonderful achievements of the writer's children… These are, without exception, grade A academics, concert quality musicians, gold medal athletes, and thoroughly good eggs. So, at just that time of year when your own children are nagging you for the most expensive Christmas presents possible, you have just read their school reports which are less than glowing, and you are facing the traumatic experience of having all the family under one roof for 3 whole days… these letters illustrate just how imperfect your home and family are.
Martyn Atkins in his recent pastoral address at the Irish Methodist Conference, when he wass speaking on "Faith Sharing in the 21st Century", suggested that there is an extent to which we in the church can tend to paint an unrealistic picture of Christian life to people outside the church… We talk about how wonderful the Christian life is… All the great things that God has being doing in and through us… But this does not encourage others to come check out what Christ has to offer them. Rather, they can tend to feel inadequate… Or else write Christians off as smug so and so's who (hopefully) are headed for a fall.
But the fact is, as revealed in Paul's round Robin letter to the church in Rome, we are all inadequate, with no reason for feeling smug…
We've all fallen well short of God's standards
, and it is only through the help of his Spirit that we can be anything like the people he created us to be… Children that our heavenly Father can be proud of.