Happy Birthday Old Man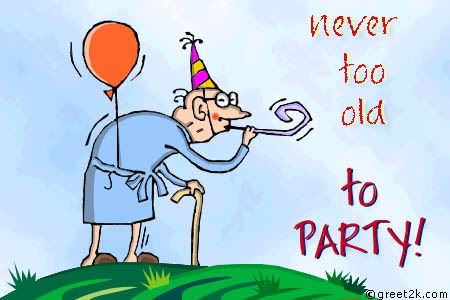 Happy birthday to me. Happy birthday to me. Happy birthday dear David. Happy birthday to me.
Yes. I am now officially one year older. 21 plus taxes... But it doesn't look any better whatever exchange rate you use.
It was a slightly weird birthday this year. First I woke up feeling less than A1 after a somewhat nauseous night... I think I had a dodgy sandwich from a deli yesterday... Won't be going back there again.

But then I spent most of the rest of the day in the company of significantly older people. First, I and the rest of my family shared a wonderful potluck lunch with the members of the "Young at Heart" Group at Faith UMC. They even made sure there were sugar free desserts for me to enjoy.
Then this evening we all went across town to
Clark Retirement Community
, where we had supper with Rev. Bob and Mrs. Bea Horton, before speaking at their midweek chapel service. It is a huge complex for around 400 residents, ranging from those who live independently in townhouses (as Bob and Bea do), through to those who need significantly greater care.
Of course my eldest son thought it hilarious that I was spending my birthday at a retirement home, and there were a number of comments about checking it out for us for the future. We did warn both of our mischievous offspring that they were to keep the funny comments to a minimum once there, and to be fair, they were on their best behaviour the whole time.
But you know, despite voicing concerns to Sally before going regarding the "ghettoisation" of older people in such complexes, after visiting I am completely won over. The range of facilities and activities offered is amazing: a fully functional gym, pool and jacuzzi; branches of the local library, bank and post office on site; painting, stain-glass and carpentry classes; piano recitals; trips to the theatre; a shop, pharmacy, ice-cream parlour and hairdressers on site, and a menu in the dining room which was far removed from that I have come to expect in residential homes in NI. So if Owain wants to bung me and Sally in there its fine by me... Except I would balk at the likely cost (although there is a charitable foundation that is there to support any resident who suddenly finds themself unable to pay the fees).
I usually go from services at residential and nursing homes deeply depressed at what potentially lies ahead for me... Tonight, having had a birthday that means I am closer in age to those who opt for such places than to the age of my eldest son, I left Clark feeling that I had a glimpse of what the future might hold if others would be as creative in developing similar provision back home.