Let's Dance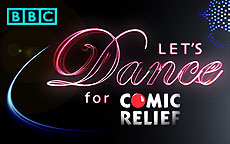 I don't dance - so don't ask me. My poor wife has only ever had a handful of dances out of me in the course of our 22 year relationship, and the current crop of "celebrity" (oh how I hate that term) dance shows is not going to change that...
The latest is "Lets Dance" where celebritys with nothing better to do are booked to humiliate themselves in front of the nation performing iconic dances from screen history. It's all in aid of Comic Relief, so I suppose that tells us how seriously we're supposed to take it, but I bet it will only be a week or two before there is yet another "BBC phone vote scandal!"
Anyway, through a combination of accident and design I managed to "miss" last night's offering, and I shall endeavour to do the same throughout its run... But the reason it has stuck in my consciousness and made it into this blog at all is the fact that I've been reading the late Dennis Lennon's book on prayer entitled "Fuelling the Fire" as part of our church "book group" list for this year. In it he draws on the ancient (Antiochene) idea of perichoresis, or each person of the Trinity intimately permeating each other. Many Christian writers have been exploring this idea in recent years: from heavyweights like Moltmann and Wolff, through to William P. Young in the ubiquitous "Shack". But for me the most helpful dimension of Lennon's use of this imagery is in describing it as being as if the Trinity is engaged in an eternal dance with each other. As I have suggested elsewhere, this dance is not an intense, exclusive tango, but a joy-filled country dance where the three "partners" dosey-doe around each other.
And, suggests Lennon, prayer, through Jesus Christ, is the means by which we too can join in that dance...
Are you dancing?