Ever Feel Like you Just want to Run Away and Hide?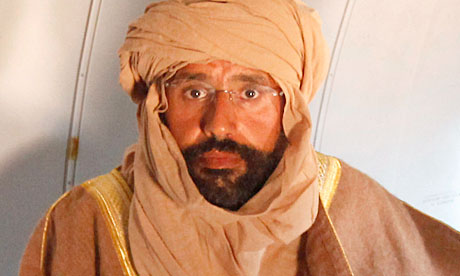 Readers of this blog will know by now that I do a monthly stint on a local independent radio station, offering reflections on the Sunday newspaper headlines and a "Review of the Week" as part of an early morning religious magazine programme, which in its latest incarnation is called "Dawn Reflections".
Today the headlines covered three broad areas depending on what papers you looked at.
The Irish nationals (eg. the
Irish Independent
and
Irish Times
) had stories critical of the past and present Irish governments' handling of the economic crisis, and reflected a spirit akin to Fraser from Dad's Army telling us "We're all doomed!"
The erstwhile
broadsheets of Britain
, meanwhile, filled their front pages with photographs of a beturbaned Saif al-Islam Gaddhafi, who was captured yesterday trying to flee Libya... (Although the Observer also found space to highlight a letter from Church of England Archbishops and Bishops critical of the current indescriminate ConDem benefit caps... while the Telegraph led with a broadside from Prince Philip about windfarms - he always was a forward thinking individual!)
Of course the British tabloids were, as usual, more interested in so-called "reality" shows, with both the People and Star covering "I'm a Z-List Celebrity Get me on to this!" and X-Factor... Actually both of them carried ridiculous "shock" headlines concerning young X-Factor contestant Amelia (you'd almost think I knew who she was!), and the risk of her going blind through diabetes... Responsible journalism at its best!!!
However, despite all of this, the story that caught my eye in the newspapers this week was the tale of a prolonged spat between the faceless people behind
Facebook and the author Salman Rushdie
. Apparently they weren't allowing him to call himself Salman on his account, insisting that he use his actual first name of Ahmed… Mr Rushdie was a little put out by this and started a vigorous campaign using that other social media site Twitter, ridiculing Facebook's stance. Then on Tuesday he announced that facebook had backed down and even apologised before reinstating his facebook account. It all seemed a bit bizarre, given that this was the same man who had to go into hiding for a substantial period of time because of a fatwah against him in the wake of his book the Satanic Verses – and here he was involved in a very public struggle over his identity in the virtual world of social media…
I suppose it was particularly important for him because his name is so firmly lodged in people's consciousness… and as an author it is important that it should remain so… For others, such as myself, our names aren't quite so important… Everyone gets my surname wrong, calling me Compton, Kempton, Trumpton or Captain instead of Campton… And this week someone called me David Cameron… A different guy ALL together…
But thankfully, in our relationship with God, he not only knows our names, he knows all there is to know about us… Hopefully we will never need to go into hiding as Salman Rushdie once did, or flee the country like Saif Gaddhafi, but the Psalmist tells us that there is no hiding from or fleeing from God…
Where can I go from your Spirit?


Where can I flee from your presence?
Psalms 139:7 (ANIV)
God knows where we are all the time… without us having to check-in on facebook, and is there with us. He stands with us in times of joy and sorrow, struggle and serenity… in times of hopefulness and anxiety... in the face of economic and health problems...
God said to his people Israel and he says to those who will come to him through Christ:
Fear not, for I have redeemed you;

I have called you by name, you are mine.

When you pass through the waters I will be with you;

and through the rivers, they shall not overwhelm you;

when you walk through fire you shall not be burned,

the flame shall not consume you.
Nothing that lies ahead, personally, nationally, and certainly not as churches, should daunt us, as we stand with the God who knows us each by name…