Words and Actions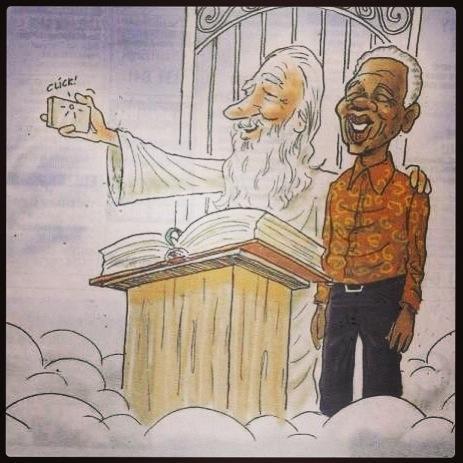 I haven't had a good old fashioned rant in a while, so here goes...

"Selfies" and "onesies..."
Have there ever been two words and concepts that sum up a civilisation in serious trouble as powerfully as those two?

"Onesie" has been an acceptable word in the eyes of the OED at least since 2007 when it appeared in the Shorter OED, but it will never be acceptable to me, either as a word or a garment... As both word and garment it represents, to me, the infantilisation of the English language and western society... Adult baby-grows described in baby talk... So family members may take back any humorous Christmas "onesie" intended for me, as one would be Queen Victoria-like in one's lack of amusement if presented with one...
But I loathe "onesies" much less than the concept and word "selfie". Others have been ranting about this "
OED word of the year
" since it was declared such last month. I have only been moved to do so in the wake of Nelson Mandela's memorial service where we had the edifying sight of the Prime Minister of Denmark,
Helle Thorning-Schmidt, taking a "selfie"
flanked by the "Leader of the Free World" and David "I always thought Mandela was a true global hero even when my fellow Young Conservatives were calling him a terrorist" Cameron. Now, I find myself in the unusual position of being on similar ground to the front pages of the Daily Mail, the Times and the Sun today, making me wonder if my moral compass has gotten distorted. But no, I'm sorry, no matter who you are, a "selfie" at what is to all intents and purposes is a funeral, is so crass as to be unthinkable... or so I thought... I have asked people to turn mobile phones off or to silent before such a service... I have never had to ask members of the congregation to STOP TAKING SELFIES! But how could you miss out on taking a "selfie", suitably tagged for posterity, at such an event?
But therein lies my problem not just with the word, or even the practice, but also the mindset behind it... That whatever the place or event, our presence there is the most important part of the story... Even when it shouldn't be...
The story SHOULD have been about the memorial service, but it turned out to be about "selfies" (together with the
competence of the "signer for the deaf"
and those organising the somewhat shambolic event who employed him)...
The modern mobile phone with its two lenses is a perfect object to illustrate how this world has gone so badly wrong... there is usually a really good lens which we can use to look at the wider world... And then a dreadful grainy one that we can use for "selfies" and "facetime/skype"... Eventually phone manufacturers will realise that they have got it the wrong way round... We are so self-obsessed we need a lens facing us that is perfectly calibrated to focus on the centre of the world... at arms length from the camera...
"Selfies" and "Onesies..." Infantile words for a society where people, like pre-social children, assume that the world revolves around them...
Words are so important... but the mindsets they describe and the actions they inspire are so much more important... I long for a world in which, as another friend put it, 2014 is described as the year of the "unselfie..."
Actually no... I cannot stomach a word derived from "selfie" even if it means the exact opposite... Lets give up on such words altogether, and get on with making the word become flesh...
Cheers